A message from Dean Johnson and CEILS:
By now you have likely heard about UCLA's upcoming transition to a new Learning Management System (LMS) – Canvas! A lot of thought has gone into this transition, taking into account the timing, support you will need and most importantly, how this will affect your teaching. Many of us who have used Canvas at other institutions find it easy to use and are thrilled about this transition. It is also understandable that this will be a new tool for the majority of faculty and therefore anxiety provoking.
Why are we moving to Canvas?
Most importantly: CEILS is here to help!
Here is some key information about the move to Canvas:
All Faculty will have access to Canvas starting September 1st with full support available October 1st
Teaching in Canvas will begin Winter Quarter
Your Canvas course will be pre-populated with the course materials transferred for you from the last taught version of the course.
Many people find Canvas very easy to use – support will be available but you might not need it, or may need just a little help getting started.
Learn more about the benefits to using Canvas here.
What else do I need to know or do?
Plan to spend a little extra time getting to know Canvas and prepping next year's winter quarter course(s) during this upcoming Fall (with help available).
Sign up for the "UCLA LMS Transformation Newsletter" to stay up-to-date on news and announcements
Bookmark lmstransformation.ucla.edu – this is the website with the most detailed information about the project and is frequently updated.
Stay tuned for the CEILS Canvas Pedagogical Support Hotline to respond to your questions, set up one-on-one consultations, and provide workshops to facilitate your transition to Canvas.
For now, enjoy your spring and summer! We will keep you posted as plans develop and let you know how to get trained in Canvas when you return in the Fall.
CEILS Online Summer Scientific Teaching Institute: Foundations of Equitable Course Design & Inclusive Teaching
APPLICATIONS NOW CLOSED
Offered on Zoom, July 7th – 14th, 2021
Learn more and view the full schedule here.
We are excited to announce the CEILS Summer Scientific Teaching Institute: Foundations of Equitable Course Design & Inclusive Teaching. In this institute you will engage in evidence-based practices to adjust, adapt, or create a course to be more equitable and inclusive. Sessions will be held on Zoom and spread out over one week.
Any instructor in the Life & Physical Sciences is welcome to apply. This will be particularly helpful for instructors who are new to UCLA, teaching a new course or revising an existing course, and those who have not participated in many CEILS events and are interested in learning about best practices and applying this information to your teaching. Teams of co-instructors teaching the same course or courses in a series are encouraged to attend together and can work together with the same facilitator. Bonus: the institute will give you an opportunity to practice in Canvas.
Applications are now closed, but if you would like to participate, please email our Associate Director, Jess Gregg ( jessgregg@ceils.ucla.edu).
Subscribe to the CEILS Mailing List to receive our monthly newsletters and special announcements.

The Center for the Integration of Research, Teaching, and Learning (CIRTL) is an NSF Center for Learning and Teaching  which uses graduate education as the leverage point to develop a national STEM faculty committed to implementing and advancing effective teaching practices for diverse student audiences as part of successful professional careers. [MORE]

The Summer Institute (SI) is part of a national effort to improve college STEM education and to enhance the academic success of all students by helping current and future faculty develop and adopt inclusive and effective teaching practices. Due to COVID-10 disruptions, the 2020 SI is being postponed either until sometime this academic year or next summer. The national Summer Institutes organization will offer an online SI. Please keep an eye out for additional information announced in the CEILS newsletter. [MORE]

The UPLIFT Program at UCLA supports postdoctoral scholars in the biological sciences who have a demonstrated interest in teaching, research, and supporting diversity in the STEM fields. The call for applications for the fall 2020 UPLIFT cohort is now closed. Information about applying to the program next year will be posted on the website. [MORE]
The Learning Assistants (LA) program at UCLA is an evidence-based, multidisciplinary instructional strategy that benefits science majors and faculty teaching large introductory science and math courses. [MORE]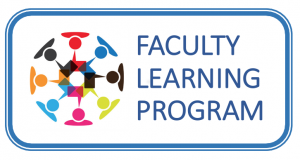 The goal of the Faculty Learning Program (FLP) is to improve STEM undergraduate teaching and learning by gathering STEM faculty from regional 2- and 4-year institutions in a collaborative, mostly synchronous online environment to learn together and improve the each other's instructional practice, as well as build relationships and understanding of one another's teaching and learning contexts. [MORE]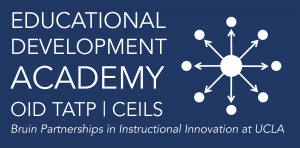 The Educational Development Academy is a train-the-trainer workshop for Teaching Assistant Consultants (TACs) designed to prepare them to train graduate student Teaching Assistants (TAs) in their home departments to better integrate student-centered and inclusive pedagogy into their courses. [MORE]