CEILS Visiting Scientific Teaching Scholar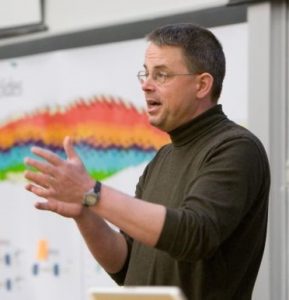 Dr. Timothy McKay

Arthur F. Thurnau Professor of Physics, Astronomy and Education
College of Literature, Science, and the Arts
Principal Investigator, Digital Innovation Greenhouse
University of Michigan
"Why Learning Analytics: Personalizing Education at Scale"
Read the abstract for his talk here.
Wednesday, December 7, 2016
4:00-5:00p
154 Biomedical Sciences Research Building
CEILS invites you to participate in a panel discussion designed to:
Increase our collective understanding of what some students are experiencing in response to the election
Provide tools and resources to make classrooms more inclusive and safe for all students
Similar to the Cross-Check Live, CEILS will provide a space for instructors, teaching and learning assistants, and academic staff in the Life and Physical Sciences to discuss the impact of the election on students, reinforce the importance of incorporating inclusive teaching practices in the classroom, and provide resources to do so effectively.
*Please see here for a full event description and list of panelists
Date: December 13, 2016
Time: 12-2p
Location: Hershey Hall 158
A light lunch will be provided.
RSVP at the following link: https://goo.gl/forms/FElrd5ZhAuDVEbmL2

The Center for the Integration of Research, Teaching, and Learning (CIRTL) is an NSF Center for Learning and Teaching in higher education. CIRTL uses graduate education as the leverage point to develop a national STEM faculty committed to implementing and advancing effective teaching practices for diverse student audiences as part of successful professional careers.