–
November 18 – December 16
CEILS would like to invite our life and physical sciences faculty to Remote Teaching with Growth Mindset: CEILS Winter Prep Workshops. Whether you are new to remote teaching, or are building on your past experience, our workshops are designed to support you in evolving your practices in Winter 2021. All sessions will be held remotely over Zoom.  Note that these will be the same as those offered at the Fall Teaching Forum in September 2020.

What it is about: In response to the feedback we have received from many of you that you would appreciate discussing and exchanging ideas about remote teaching challenges and inclusive ways of addressing these challenges for Fall 2020, we'll be replacing our normal education research Journal Club with a Remote Teaching Discussion Club. This will be a space to share challenges, and hear from others. We are of course happy for folks to bring evidence-based remote teaching ideas to this space to discuss with others.
When: Wednesdays, 12:00 – 12:50 pm PST, starting November 4th
RSVP:  here
Where: Join us on Zoom

We at CEILS are delighted to welcome Professor Tracy Johnson as the new Dean of the Division of Life Sciences! Dean Johnson is an HHMI (Howard Hughes Medical Institute) professor who holds the Keith and Cecilia Terasaki Presidential Endowed Chair in the Life Sciences. Throughout her years as a University of California professor (at UC San Diego 2003 to 2013, and at UCLA since 2013), Dean Johnson has not only participated in ground breaking research, but has also earned multiple honors, awards and grants for her work providing transformative undergraduate learning experiences.
We are excited for Dean Johnson's leadership in creating more equitable classrooms and look forward to continuing our work with her at UCLA!
Resources to Support Teaching Through the Election
–
The last several months have challenged all of us as educators. Several national and global crises – such as the pandemic, the California wildfires, and the continued and senseless murders of Black Americans – have deeply affected many of our students and us. The increasingly contentious and fast-approaching presidential election has ignited a wide range of emotions, with the potential to disrupt students' learning yet again. We also know that the election's outcome may be unclear for some time after voting ends, causing further uncertainty and anxiety.
Please check out these resources to help you navigate discussions about the election in your classroom.
Featured Resources
During these unprecedented and stressful times, we urge you to embrace an attitude of empathy, understanding, and flexibility with your students, your TAs, and UCLA staff and administration as we work together to best support our community in the context of both recent and ongoing protests against racism and police brutality as well as adjustments to remote teaching during a pandemic. Please be equitable with your grading practices and consider what alternatives you might provide, flexible in your scheduling of assignments and live zoom sessions, and invest extra time communicating with your students. The following featured resources provide strategies and guidance on these topics.
Subscribe to the CEILS Mailing List to receive our monthly newsletters and special announcements.

The Center for the Integration of Research, Teaching, and Learning (CIRTL) is an NSF Center for Learning and Teaching  which uses graduate education as the leverage point to develop a national STEM faculty committed to implementing and advancing effective teaching practices for diverse student audiences as part of successful professional careers. [MORE]

The Summer Institute (SI) is part of a national effort to improve college STEM education and to enhance the academic success of all students by helping current and future faculty develop and adopt inclusive and effective teaching practices. Due to COVID-10 disruptions, the 2020 SI is being postponed either until sometime this academic year or next summer. The national Summer Institutes organization will offer an online SI. Please keep an eye out for additional information announced in the CEILS newsletter. [MORE]

The UPLIFT Program at UCLA supports postdoctoral scholars in the biological sciences who have a demonstrated interest in teaching, research, and supporting diversity in the STEM fields. The call for applications for the fall 2020 UPLIFT cohort is now closed. Information about applying to the program next year will be posted on the website. [MORE]
The Learning Assistants (LA) program at UCLA is an evidence-based, multidisciplinary instructional strategy that benefits science majors and faculty teaching large introductory science and math courses. [MORE]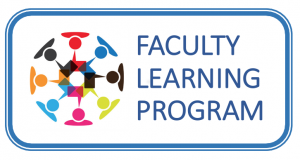 The goal of the Faculty Learning Program (FLP) is to improve STEM undergraduate teaching and learning by gathering STEM faculty from regional 2- and 4-year institutions in a collaborative, mostly synchronous online environment to learn together and improve the each other's instructional practice, as well as build relationships and understanding of one another's teaching and learning contexts. [MORE]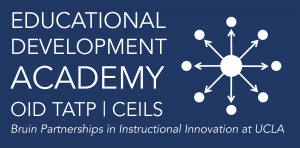 The Educational Development Academy is a train-the-trainer workshop for Teaching Assistant Consultants (TACs) designed to prepare them to train graduate student Teaching Assistants (TAs) in their home departments to better integrate student-centered and inclusive pedagogy into their courses. [MORE]
Click here to add your own text