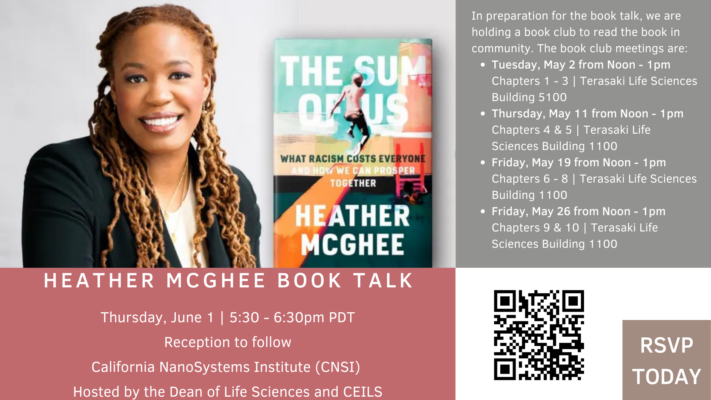 Dear Colleagues, 
I'd like to invite you to join me in welcoming
Heather McGhee
 to our beautiful campus for a thought-provoking evening, including a discussion of her book, The Sum of Us: What Racism Costs Everyone and How We Can Prosper Together. This New York Times Bestseller, longlisted for the National Book Award has been called "One of today's most insightful and influential thinkers offers a powerful exploration of inequality and the lesson that generations of Americans have failed to learn: Racism has a cost for everyone—not just for people of color".
The book talk, followed by Q & A with the author, will take place at the UCLA California NanoSystems Institute (CNSI) on Thursday, June 1st at 5:30 – 6:30 followed by a reception.
In preparation for this book talk, the Center for Education Innovation and Learning in the Sciences (CEILS) is hosting a book club to discuss The Sum of Us: What Racism Costs Everyone and How We Can Prosper Together. We will read and discuss the book in four sections. Please feel free to drop in as your schedule allows. The book club dates are:
Tuesday, May 2, Noon – 1pm | Chapters 1-3 | Terasaki Life Sciences 5100
Thursday, May 11, Noon – 1pm | Chapters 4 & 5 | Terasaki Life Sciences 1100
Friday, May 19, Noon – 1pm | Chapters 6-8 | Terasaki Life Sciences 1100
Friday, May 26, Noon – 1pm | Chapters 9 & 10 | Terasaki Life Sciences 1100
To RSVP for the May book club dates and book talk, please click 
here
.
We look forward to having you join us for this exciting visit.
Best wishes,
Tracy
*************************************************
Tracy Johnson
Keith and Cecilia Terasaki Presidential Endowed Chair
Professor, Molecular, Cell and Developmental Biology
Dean, Life Sciences, UCLA College
————————————————————————————————————-
About Heather McGhee
Heather is an educator, serving currently as a Visiting Lecturer in Urban Studies at the City University of New York's School of Labor and Urban Studies. She has also held visiting positions at Yale University's Brady-Johnson Grand Strategy Program andthe University of Chicago's Institute of Politics. She is the recipient of honorary degrees from Muhlenberg College, Niagara University, and CUNY Graduate School of Public Health & Health Policy.
For nearly two decades, Heather helped build the non-partisan "think and do" tank Demos, serving four years as president.Under McGhee's leadership, Demos moved their original idea for "debt-free college" into the center of the 2016 presidential debate, argued before the Supreme Court to protect voting rights in January 2018, helped win pro-voter reforms in five states over two years, provided expert testimony to Congressional committees, including a Supreme Court confirmation hearing in 2017, and led the research campaigns behind successful wage increases for low-paid workers on federal contracts, as well as at McDonalds, Walmart and other chain retailers.
McGhee also played a leadership role in steering the historic Dodd-Frank Wall Street Reform and Consumer Protection Act, and was one of the key advocates credited for the adoption of the Volcker Rule.
She holds a B.A. in American Studies from Yale University and a J.D. from the University of California at Berkeley School of Law,. McGhee is the chair of the board of Color Of Change, the nation's largest online racial justice organization, and alsoserves on the boards of the Rockefeller Brothers Fund, the Open Society Foundations' US Programs and Demos.