Return to All Teaching Guides
What is peer instruction?
Peer instruction is when you have students learn by discussing questions in class, generally involving polling and guidance from the instructor.
Scroll down to read about the benefits and range of approaches for peer instruction.
Are you trying to set up iClicker? Here's some quick info 
Many instructors in the Life and Physical Sciences use iClicker as a polling tool to support student engagement during lecture. Scroll down to learn more about why and how to use a range of polling options for peer instruction.
iClicker Cloud requires instructors to run the iClicker software from their laptops or classroom computer. If you are not using the blue instructor remote and no student is using a physical clicker than the white base is not required. Students can participate using the mobile app on their phones or signing in through the web on their laptops. If you still want to allow a physical clicker then the white base must be plugged in before launching the iClicker Cloud software. iClicker integrates with Bruin Learn to enable grading for participation. For 1:1 support in setting up iClicker instructors can reach out to Melissa O'Brien via her training link or email her directly, melissa.obrien@macmillan.com, to meet over Zoom to walk through the setup.
Need an instructor kit? You can pick up an instructor base and remotes from the CEILS office, 222 Hershey Hall during regular business hours. Email media@ceils.ucla.edu to arrange a time for pick-up. 
Student remote registration: Once you have set up your iClicker account you can add iClicker remote registration to your course in Bruin Learn. From your course menu select settings, then navigation. Scroll down to see hidden items and move "iclicker registration" up to be visible in your course menu. 
Note that students pay for iClicker (only one subscription or remote regardless of number of classes requiring it). Additional polling options are provided at the bottom of this page. 
Benefits of Peer Instruction
In this video, Harvard Physics Professor Eric Mazur shares the story of the moment he realized his outstanding teaching reviews were not actually resulting in the student learning outcomes he believed he was achieving – a harsh wake-up call that led him to discover the teaching strategy he named "peer instruction".
What is peer instruction? Peer instruction refers to the practice of students learning through discussion with peers.
Why use peer instruction? It is one of the most research-validated forms of active learning; the "Research" tab at this AAPT link includes a long list of studies supporting the practice.
What can I use in-class polling for?
In-class polling has many possible uses (adapted from Douglas Duncan at CU Boulder):
Find out what students learned from assigned reading before class
Measure what students know before you start to teach them and after you think you've taught them
Measure attitudes and opinions, with more honest answers if the topic is personal or embarrassing
Get students to confront common misconceptions
Facilitate discussion and peer instruction (having peers learn from one another)
Increase student retention of what you teach, through engagement and peer instruction
Transform the way you do demonstrations (involve all students in prediction and reasoning)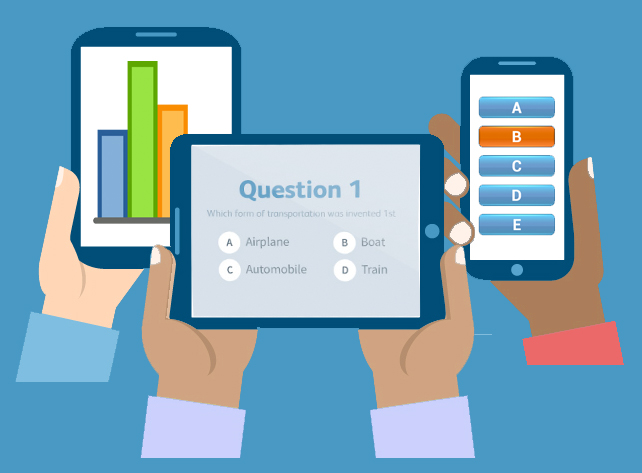 HOW CAN I IMPLEMENT THIS SUCCESSFULLY?
Explore the toggles below to learn about the best practices for implementing polling in your course, as well as guides for setting up iClicker, and information on various polling technologies.
This video shows an example of active learning with polling:
Peer Instruction Decision Tree
The figure at the right can guide you through how to implement peer instruction and respond to different possibilities in terms of how many students are correct.
Research-Based Implementation of Peer Instruction: A Literature Review (2017). Trisha Vickrey, Kaitlyn Rosploch, Reihaneh Rahmanian, Matthew Pilarz, and Marilyne Stains. CBE—Life Sciences Education.
https://doi.org/10.1187/cbe.14-11-0198