CEILS 2021 Annual Faculty Workshop on Best Equitable Practices In Teaching
CEILS 2021 Annual Faculty Workshop on Best Equitable Practices In Teaching (September 2021)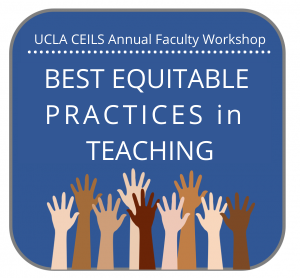 Facilitated by CEILS Assistant Director Katie Dixie, Associate Director Jess Gregg, Interim Director Rachel Kennison, Associate Director Katie Healey, Postdoctoral Scholar JoAnn Roberts, Senior Associate Director Shanna Shaked, and Associate Director Supriya.
Description: This 2-day workshop (September 14-15) prepared instructors for Fall 2021 classes by providing equitable teaching strategies that maximize success for all students.
Learning Goals: Participants will work towards becoming an equity-minded practitioner by…
Building a community of practice/culture of talking about teaching
Appreciating the need for equitable and inclusive teaching
Committing to implementing at least one new equitable student-centered practice in your classroom
Applying the principles of backward design to your practice
Identifying resources you can access continuously throughout the year for support in continued learning, implementation and reflecting on your practice
For a full list of resources shared during all of our sessions, please view the 2021 Faculty Workshop Resource Guide. Our Special Edition Newsletter, also includes highlights from our 2021 Faculty Workshop, along with resources organized by topic.
SESSION 1 – WELCOME & INTRODUCTION TO COURSE DESIGN
During our welcome session we were grateful to have Dean Tracy Johnson and Associate Dean Albert Courey provide some context for our workshop and welcome the participants. A quote from Dean Johnson highlights some of the important lessons that we can apply in our approach to education and collegiality:
"One of the most important things I've learned from [CEILS] over the years can be summarized with the 'Three Cs:' The first is the importance of Compassion. Being both kind and gentle with our colleagues, our students, but also to ourselves…
"The second C is Clarity, really being clear with our expectations and explicit about what we're asking [of] our students… And the third is Community, that we are really in this together."
Learning Outcomes:
Clarify the mission of CEILS and how we can help support you during this time of transition
Appreciate what we have learned from the last 18 months about remote learning, student experience, and the role of equity in higher education
Appreciate the importance of attending to student equity and inclusion
Lay the foundations to build a learning community in your class as well as a collaborative community of practice with your colleagues
Define what scientific teaching is and how it is grounded in research and evidence (i.e. evidence-based)
Appreciate the value of using backward design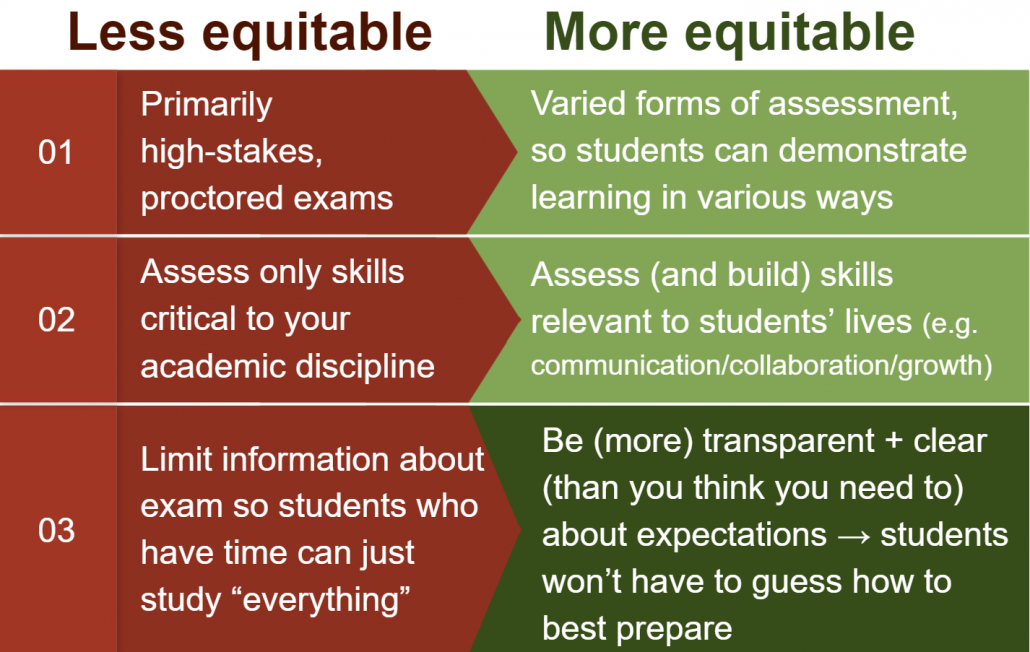 SESSION 2 – STRATEGIES FOR EQUITABLE ASSESSMENT
Any approach to equitable course design begins with the idea of "Backward Design". This begins with planning learning goals and outcomes for students before planning assessments or activities to help students learn effectively. In this session, the CEILS team helped participants plan for inclusive and equitable assessment strategies that aligned with the goals and learning that they wanted their students to achieve.
Learning Outcomes:
Recognize that assessment can be used not only to evaluate student learning, but also for students and faculty to promote student learning
Consider ways in which high-stakes exams/projects are often less inclusive or authentic
Discuss the benefits, limitations, and equity considerations of two alternative assessments
Adapt assessments to align them better with learning outcomes.
Identify one alternative assessment that you can use in your course
SESSION 3 – ENGAGING STUDENTS WITH ACTIVE LEARNING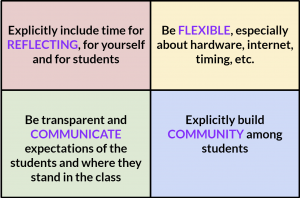 Research shows that actively engaging students in the learning process can lead to deeper and more valuable learning. Effectively incorporating active learning techniques into your lecture can help solidify the concepts they are learning. In this session we discussed strategies that could be used remotely or in-person to increase student participation and considered how to address equity issues that may arise when implementing these activities. (See 4 Four Guiding Principles for Managing Transitions to the left, developed by Karin Gosselink, Yale University and adapted to include best practices for teaching inclusively)
Learning Outcomes:
Identify some of the benefits of using active learning instructional strategies to increase learning and address inequities in higher education.
Consider an array of active learning strategies, such as polling, wait-time, think-pair-share, asking open questions, and other collaborative techniques.
Recognize some of the critical equity considerations in active learning under the current circumstances.
Determine how you want to use surveys to adapt active learning strategies to best meet the needs of ALL of your students.
Consider how to shift things to asynchronous instruction and make the most of synchronous instruction
Identify at least two active learning techniques to integrate into your teaching in meaningful and inclusive ways
SESSION 4 – IDEA SHARING FROM PEERS: FACULTY LIGHTNING TALKS
–
Learn how Faculty across STEM have incorporated inclusive and equitable teaching strategies in their classrooms. During our workshop, faculty panelists discussed, showed examples, and presented data on the following topics:
Dr. Siobhan Braybrook: Combining Asynchronous and Synchronous Learning (+ increasing student agency)
Dr. Jennifer Casey: Using POGIL to Create Community in the Classroom
Dr. Tonya Kane: Engaging students in lower and upper division courses in EEB
Dr. Jeff Maloy: Two-stage exams, nature of and positionality in science, science and society, and learning pods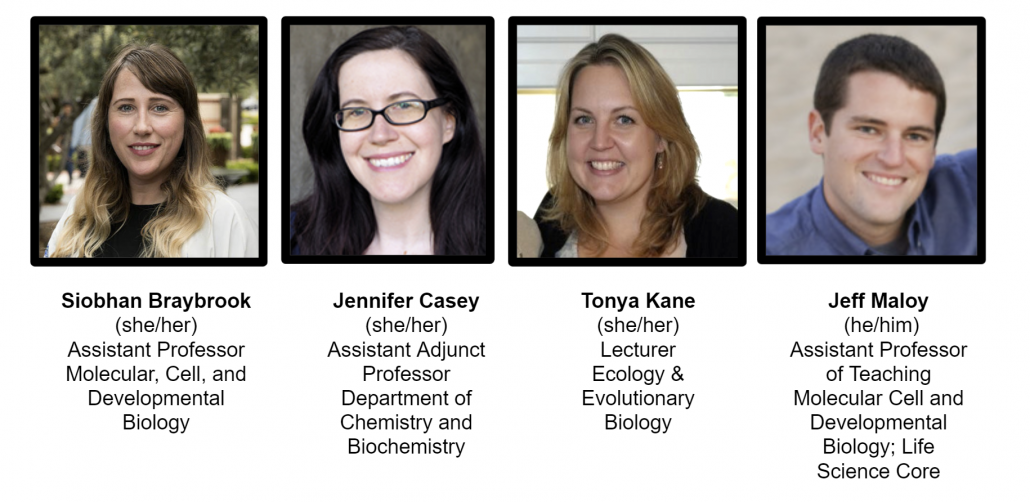 Learning Outcomes:
Consider additional inclusive teaching strategies to incorporate into your own teaching
Consult with a group of peers on issues related to teaching inclusively during a pandemic
Discuss and explore challenges and strategies to better support students academic success this coming year
SESSION 5 – INCLUSIVE AND EQUITABLE SYLLABUS DESIGN
One of the first things students engage with in a course is the syllabus; it provides an introduction not only to the topics and assignments throughout the quarter, but also provides a first impression of who you are as a teacher. On top of that, research shows that students frequently refer to the syllabus through the quarter. In this session we discussed and explored ways to make our syllabi more welcoming and clear, support student learning, and encourage student success.
Learning Outcomes:
Identify the many purposes of a syllabus, including messaging to students
Reflect on the meaning of an equity-minded syllabus
Identify & apply ways to have a welcoming tone & inclusive language
Investigate key syllabus components and reflect on ways to make your syllabus (and therefore course) more equitable
Adapt syllabus to make it more welcoming, inclusive, validating and demystifying
SESSION 6 – STUDENT PANEL: PREPARING FOR FALL QUARTER
We were fortunate to have 5 fantastic students join us for a student panel who shared insight on their experience over the last year and a half, what instructors did well during the pandemic, and what they are most concerned about coming back to campus this fall. Below are a few quotes we pulled from the panel that we thought might be particularly useful for instructors to know:
"…even though we're not all necessarily online anymore I think that a whole year of having to deal with that and maybe to deal with the loss of a family member or close friend is definitely going to weigh heavy on them for a while. It's going to be difficult for them to get back in the rhythm of things and the schedule. I think also being able to recognize the outside forces or outside issues can also add on to that stress."
"My main concern is if I get COVID or something and I have to isolate myself. If there's an in-person class I'm taking, will I have to make it up somehow, or what would the protocol be, especially during finals week? I really don't know what's going to happen."
"When I had to quarantine…the professor allowed us to have an alternate assignment to make up for an exam or assignment we missed because of an illness and it helped take a lot of pressure off what I had to do…so I could focus on my well-being and mental well-being."
Learning Outcomes:
Reflect on the student experience during the past year of COVID, remote teaching, and more
Listen to guidance and advice from students on what would help them be successful at UCLA this coming year.
Identify at least 1-2 ways that you can best help support students and their learning
Answer questions you may have for students about their experience
SESSION 7 – EXPERIENCE ACTIVE LEARNING WITH MASKS PRIOR TO DAY 1
Many students and instructors have mixed emotions about returning to campus this fall; they are both excited to be able to engage with others face-to-face, but are concerned about health and safety. This was a feeling that was mirrored during our in-person workshop session. The room had an air of excitement and celebration mixed with trepidation as we brainstormed solutions to challenges to teaching in-person.
Learning Outcomes:
Brainstorm strategies to address some challenges of in-person learning with masks
Consider if and how to record or livestream for those who can't attend
List/Observe ways to engage students in person, with masks on
Practice leading active learning with masks on
VIEW TECHNOLOGY AND REVIEW GUIDE
NOTE: This session was recorded in-person with face masks, unreliable microphones, and other acoustic interference that compromised the quality of the auto-captions.
SESSION 8 – TEACHING WITH TAs: INTENTIONALLY BUILDING COMMUNICATION, BOUNDARIES, & MENTORSHIP WITHIN THE TEACHING PARTNERSHIP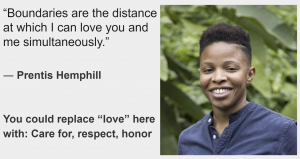 This Fall CEILS piloted a new workshop for faculty called "Teaching with TAs: Intentionally Building Communication, Boundaries, and Mentorship within the Teaching Partnership". In the workshop we discussed challenges that TAs face and ways that instructors can more efficiently engage TAs as part of a team while respecting their roles as student-teachers.
Learning Outcomes:
Appreciate the challenges and struggles that graduate students are facing
Plan and teach your course as a team with your TAs through the use of structured team meetings
Create opportunities for TA input and professional development
Design equitable assessments with TA workload in mind
Navigate student privacy and accessibility concerns within your teaching team
Create a compact of shared expectations that establishes responsibilities, boundaries, and plans for communication and mentorship with TAs in your course
VIEW THE WORKSHOP RECORDING, RESOURCES, AND SLIDES HERE.