If we want all students with ability to succeed in STEM courses, we need to consciously design learning environments in which every student is welcome to fully participate in learning.
Featured Resource: The CIRTL online course "Introduction to STEM Teaching" has developed a wonderful module on inclusive teaching, which CEILS highly recommends to faculty, instructors, and TAs as a wonderful introduction to what is really meant by "inclusive" teaching.  You can view this module here.
Featured Resource: The journal CBE-Life Sciences Education released a 2019 evidence-based Teaching Guide on Inclusive Teaching. Click on the image to the right to see a checklist and details on specific elements you want to explore further.
Building Inclusive Classrooms at UCLA
Enhancing Student Success and Building Inclusive Classrooms at UCLA
Understanding "Inclusion" Within the UCLA Context
Before diving into learning about inclusive teaching practices and related concepts, please take a moment to read the executive summary of  Enhancing Student Success and Building Inclusive Classrooms at UCLA
This data-driven report summarizes issues with inequalities in outcomes of students at UCLA, and provides recommendations for addressing these discrepancies and improving successful outcomes for ALL students. Inclusive teaching practices are among the recommendations.
Creating a Positive Classroom Climate for Diversity
A 2015 publication from the UCLA Diversity & Faculty Development office:
Whether the class is in a large lecture hall, a small seminar, or a laboratory section, a learning environment where all feel safe, valued, and respected is necessary for students to achieve and demonstrate their full potential. Since a negative environment can be an obstacle to learning, it is essential to understand how to create and sustain a positive climate for all students. Faculty can build and maintain such a climate by actively incorporating inclusivity in course development, syllabi, teaching methods, and interactions with students. Creating a Positive Classroom Climate for Diversity provides guidance in using inclusive teaching practices to create a classroom environment that values diversity and encourages success.
Cross-Campus Resources for UCLA Faculty
Setting Classroom Agreements: A Guide by UCLA's Intergroup Dialogue Program and The Center for the Advancement of Teaching
Strategies for Cultivating Inclusive Classrooms
Assessing Barriers to Student Success and Current Classroom Climate
Strategies for Cultivating Inclusive Classrooms
The following resources provide several strategies to support faculty, instructors, and TAs to build inclusive classroom environments and support success for all students.
Ways to structure your course to be more inclusive
Things you can do with your students to more explicitly address inclusivity
Setting Ground Rules for Group Discussion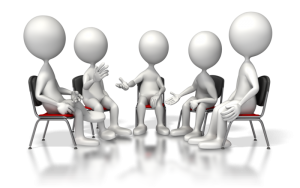 Have you ever been in a group discussion where one or two people dominated the conversation? How about a time when you wanted to share an idea, but were immediately interrupted? Ever witness someone saying something insensitive or innappropriate and not sure how to intervene? What about a time when the group discussion digressed so much that little was accomplished from the intended goal?
Most of us have had the above experiences, and for students these can be frequent experiences in classes that include group discussion and group work. At the same time, group collaboration and discussion skills are important skills for students (and instructors) to develop.
The strategy of setting ground rules for group discussion can be an effective technique for promoting an inclusive climate. Students may create their own grown rules or instructors may wish to provide them. Once developed and communicated, ground rules can be revisited at any time.
Sample ground rules:
Allow the speaker to complete their thought before making a comment (avoid interrupting).
Do not engage in texting or side conversations during group discussion.
Provide opportunities for individuals who have not yet spoken to offer their thoughts. 
Setting Classroom Agreements: A Guide by UCLA's Intergroup Dialogue Program and The Center for the Advancement of Teaching
View additional examples from the Center for Reasearch on Learning and Teaching at the University of Michigan
Utilize Wait-Time in Lecture
Silence in the classroom can feel uncomfortable for students and instructors alike, but processing information takes time. Waiting for several seconds after asking a question so that students, particularly introverted ones, are able to gather their thoughts before responding is proven to expand participation and improve the quality of student responses. In this video, Bob Kegan and Dan Levy discuss their strategies for using wait-time in the classroom, which Levy calls "one of the most underused weapons that an instructor has at his/her disposal."
Race and Physics Teaching Collection from AAPT
Other peer-reviewed studies about inclusive teaching
Inclusive Teaching Advice Guide - Chronicle of Higher Ed
Featured Resources from CEILS 2016 Event: Building Inclusive and Safe Classrooms in Light of Recent Election
View resources from this event
Resources for Faculty, TAs, and Academic Staff
Understanding Implicit Bias and Stereotype Threat
Do you discriminate? In the following TedTalk, UCLA law professor Jerry Kang exposes the phenomenon of automatic processing and how it relates to explicit and implicit bias. Decades of research shows that attitudes and stereotypes influence how we see and behave. Despite our best efforts, are we all under the sway of "the rightness of whiteness?" And is there evidence showing that these biases can be reduced — at least temporarily? Using humor and audience participation, Kang challenges our assumptions while shifting our perceptions of at least one Asian male.
Resources on Implicit Bias and Stereotype Threat
The UCLA Office for Equity, Diversity, and Inclusion has developed education materials on implicit bias and stereotype threat:  https://equity.ucla.edu/know/implicit-bias/
Project Implicit is a non-profit organization and international collaborative network of researchers investigating implicit social cognition – thoughts and feelings outside of conscious awareness and control. Project Implicit is the product of a team of scientists whose research produced new ways of understanding attitudes, stereotypes and other hidden biases that influence perception, judgment, and action.
Project Implicit translates that academic research into practical applications for addressing diversity, improving decision-making, and increasing the likelihood that practices are aligned with personal and organizational values.