CIRTL@UCLA programming includes local courses and events on UCLA's campus that are aligned with the CIRTL network learning outcomes. Participation in these courses contribute to CIRTL certification. These local learning communities provide all graduate students and postdoctoral scholars with a collaborative space to explore best practices in teaching.
For a complete description of the CIRTL Network learning outcomes, please visit the CNC.
Schedule of CIRTL@UCLA courses for 2018-2019
Fall 2018 - An Introduction to Evidence Based Undergraduate Teaching
An Introduction to Evidence Based Undergraduate Teaching
10 weeks on Monday's, 12-1:30 pm October 8th – Dec 10th
Course Description:
This course is designed to provide you with the foundational knowledge on the large body of educational research that supports effective teaching strategies. The goal of the course is to prepare you — THE NEXT GENERATION OF FACULTY — to be effective teachers with the support of a learning community.
This course was created by a unique collaboration between CEILS and UCLA Writing Programs to include graduate students and post doctoral scholars in all disciplines.
The Center for the Integration of Research, Teaching and Learning (CIRTL) is a national network comprised of 40+ PhD granting institutions across the US and Canada. In recent years, CIRTL institutions have expanded its mission to cultivate evidence-based teaching practices in all disciplines. This course is the first in a series that provides participants a pathway to CIRTL certification.
Click here to view flyer
To Register use this google form by Monday, October 1st and for more information please contact Rachel Kennison, MSW, Ph.D., email: rkennison@ceils.ucla.edu
Course Schedule
Week 1: Creating an Inclusive learning Community
Week 2: Principles of Learning Part 1: Prior Knowledge and mental models
Week 3: Principles of Learning, Part 2: Feedback and Mindset and Motivation
Week 4: Introduction to Backward Design: Learning Outcomes and their uses
Week 5: Assessment and Feedback: Types of Assessment
Week 6: Practicing Alignment: Align learning goals, outcomes and assessments/activities
Week 7: Active Learning part I: Why Active Learning?
Week 8: Active Learning Part II: Group work
Week 9: Inclusive Teaching: The Importance of Inclusive Teaching and the Mistakes Instructors Make
Week 10: Lesson plan/Classroom Observation presentations and wrap up
Winter 2019 - Teaching as Research (TAR)
Teaching as Research (TAR)
10 weeks on Wednesday's, 12-1:30 pm January 9th – March 13th
Course Description:
This course is designed to guide you through the planning of a Teaching-as-Research (TAR) project. Students will develop and complete a TAR project proposal and will prepare to conduct their research in the next quarter.
To register for this course, please fill out this google form.
Learning Outcomes:
By the end of the class, you will be able to:
Identify and clarify research questions and learning outcomes
Describe relevant education research and assessment tools in your discipline
Plan assessments to collect evidence to answer research questions
Complete human subjects training
Complete a proposal to conduct a TAR project in the next quarter or within the year.
Completion of a TAR project proposal:
Your final materials submitted will be a TAR project proposal. We will work throughout the course on developing your proposal in stages so that the completion by the end of the course will be manageable.
Draft Schedule:
Week 1: Introduction to course; What is Teaching-as-Research?
Week 2: Presentation of initial project ideas Introduction to literature review
Week 3: Honing your TAR question Composing learning outcomes
Week 4: Intro to qualitative & quantitative methods
Week 5: Peer feedback on Methods
Week 6: Practice with qualitative methods
Week 7: Practice with quantitative methods
Week 8: Peer feedback on assessment tool(s)
Week 9: Peer review on Introduction
Week 10: Presentation of final project proposals
Spring 2019 - Implementation of your TAR project
Implementation of your TAR project
Day and time TBD with individual teaching faculty advisors and TAR instructors
Exploring Careers Inside and Outside the Academy
The course is offered to Graduate Students and Postdoctoral Scholars who want to be part of a community supporting individualized professional development and a systematic approach to career exploration.
Learning Outcomes – you will be able to:
Research and assess various career options
Use self-assessment feedback to clarify and confirm a career path
Build and get feedback on application documents (including teaching, research, commercial industry, government and non-profit – and this list is not exhaustive).
Create and maintain professional networks
Practice career-related skills
Graduate Student Professional Development 495CE
The UCLA Center for Community Learning is excited to announce a professional development opportunity for graduate students. In Winter 2019, we will be offering a teaching practicum course on community-engaged pedagogy.
In this 495 seminar, you can expect to participate in lively discussions that (re)envision what graduate education for engaged, inclusive, action-oriented teaching and research could/should look like at UCLA–as well as interactive workshops designed to help you develop skills and strategies for integrating community partnerships into your teaching. Students who complete the course will receive 4 units of satisfactory/unsatisfactory credit on their transcripts. The course can also be applied toward the Graduate Certificate in Writing Pedagogy and may be applied toward CIRTL competencies for STEM education. Additional information about what you can expect from this seminar can be found in the attached overview.
In order to ensure that this seminar can foster active dialogue among all participants, space is limited. To secure your place, please fill out the Google Form below as soon as possible and no later than 5pm on November 30:
https://goo.gl/forms/PbLTch6kgWYAmjPZ2  
Tell us a little about your background, teaching interests, and availability:
This course is currently scheduled for Mondays from 12-1:50 but I'm open to shifting the time if a critical mass of students prefers another day/time (and provided that we can find a room). Please feel free to reach out with questions. We hope to work with you in Winter 2019!
This course can be applied to CIRTL Associate level certification.
Please contact Rachel Kennison (rkennison@ceils.ucla.edu) for more information.
CEILS Bringing Theory to Practice (BTtoP) Workshops
Bringing Theory to Practice (BTtoP) Workshops are designed to share best practices in teaching pedagogy and strategies for implementation with faculty and instructors at UCLA. Many workshops are offered in advance of each quarter to help prepare for upcoming quarters.
Increasing Student Engagement through Interactive Polling (iClickers)
Designing Your Course Syllabus
Active Learning for Inclusive Classrooms
Creating Equitable Classroom Environments
10+ Strategies for Getting Feedback from Students
Flipping Your Class With Camtasia – A Tool for Interactive Screencasts
Training Workshop for Using the Classroom Observation Protocol for Undergraduate STEM (COPUS)
CEILS Journal Club for STEM Education Research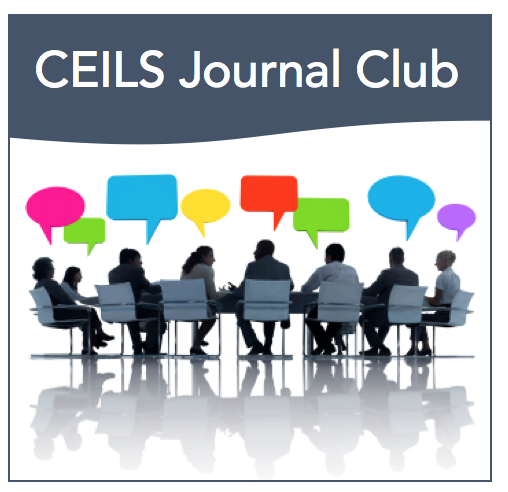 Fridays every quarter from 2:00 – 3:00 PM   Location: 1100 TSLB 
About Journal Club: Every quarter, participants explore relevant education literature in more depth and develop greater understanding of assessment techniques and data analysis methods. Presenters may select a paper and lead a discussion about how education researchers have documented the relationship between effective teaching practices and their impact on student learning, knowledge retention, and persistence in STEM majors. Alternatively, presenters describe classroom innovations and evidence-based instructional strategies they are trying in their own courses, soliciting feedback from participants while sharing their expertise in a variety of areas supporting instruction and assessment in STEM classrooms. Faculty, graduate students, and postdocs are welcome to participate!
View the schedule for this quarter!
Entering Mentoring Training (EMT) Program
Effective mentoring is critical to the retention of students in STEM fields and has been linked to greater productivity, research independence, and career satisfaction. In general, mentors do not receive any formalized training in mentoring. More specifically, mentors are unaware of specific issues related to mentoring diverse students.
Entering Mentoring Training is an 8 week curriculum based on the model: "Entering Mentoring: A Seminar to Train a New Generation of Scientists," by J. Handlesman et al. 2009.
The Spring 2019 EMT RSVP survey is open. If you are interested in participating please click here and complete the survey by February 27th, 2019.