Debra Pires, Ph.D.
Academic Administrator, CEILS Instructional Consultant
Life Sciences Core Curriculum
Using Clickers to Promote Active Learning in Large Classrooms
Dr. Debra Pires teaches courses in the Life Sciences Core Curriculum, including LS 1 (Evolution, Ecology, & Biodiversity), LS 2 (Cells, Tissues, & Organ Systems), and LS 3 (Introduction to Molecular Biology). She regularly uses audience response systems, called clickers, to introduce active learning exercises in her classes. When done properly, this technology has been demonstrated to enhance student learning in a variety of biology and physics undergraduate courses.
Dr. Pires hosts CEILS workshops and a webinar in conjunction with iClicker, describing methods she uses for building conceptual question progressions as in-class clicker exercises that help students achieve defined course outcomes. Well-defined student learning outcomes are essential to student success in any course. Student learning outcomes provide a framework for organization of instructional pedagogies that will help students achieve defined course outcomes. More importantly, student learning outcomes provide students with the expectations in respect to their level of understanding and skills at the end of the course. While student learning outcomes span both lower-order and higher-order cognitive skills, it can sometimes be difficult to design clicker-based active learning exercises that not only help students construct the knowledge they need to achieve each of your learning outcomes, but also allow for developing and practicing higher-order cognitive skills often identified as departmental or programmatic outcomes.
---
Jordan Moberg Parker, Ph.D.

Academic Coordinator
Microbiology, Immunology, & Molecular Genetics
UCLA Faculty Join Biology Scholars Program
Dr. Jordan Moberg Parker was accepted into the Assessment Residency of the 2014 Biology Scholars Program. As a participant, she attended the "Measuring Student Learning Institute" in June at the American Society for Microbiology (ASM) headquarters office in Washington, DC. In addition to communicating and collaborating with other Biology Scholars and Institute Leaders, Dr. Parker will also present her education research conducted at UCLA in the Department of Microbiology, Immunology & Molecular Genetics at the ASM CUE meeting in 2015.
The Biology Scholars Program receives funding through a National Science Foundation grant and is managed by the American Society for Microbiology. NSF support validates ASM's efforts to transform biology education. The Biology Scholars Program seeks to improve undergraduate biology education based on evidence of student learning. In the past nine years, the Program has prepared more than 200 biologists to engage in the scholarship of teaching and learning (SoTL) and lead the life science professional societies in new ways of practicing undergraduate teaching and mentoring in the discipline.
Acceptance into the Biology Scholars Program is a highly regarded, prestigious honor that will prove to be an incredible learning experience and networking opportunity. Please join the CEILS community in congratulating Dr. Parker for being accepted into this esteemed professional development program that promotes the scholarship of teaching and learning.
---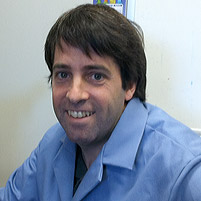 Mariano Loza Coll, Ph.D.
Postdoctoral Fellow
Molecular, Cell, and Developmental Biology
Everybody Can Understand the Latest Science News with Science4Everybody
Dr. Mariano Loza Coll and his colleagues, Drs. Nick Reeves and Joseph Stacy, developed Science4Everybodyto make it possible for those interested in science to have an understanding of research that is going on in diverse scientific communities. The articles contain bold orange terms to explain the science terminology, so even if you are not a scientist, you should be able to understand the findings. The articles also contain blue information icons that delve deeper into the specifics of the results and techniques for more knowledgeable readers who are eager to learn the details of a study.
Science4Everybody combines technology and the professional expertise of science writers to provide the readership, regardless of their educational background, with balanced reports on the latest scientific discoveries from the specialized literature. With a little help and guidance from scientists and educators, both the experts in a scientific field and the layperson with curiosity about science discoveries can enjoy the same scientific news.
Science4Everybody strives to:
1. Communicate recent scientific advances by reporting on primary research articles (especially those not covered by the mainstream science media).
2. Educate its readership, by making scientific knowledge easily understood by anyone who is interested in learning about science.
3. Connect the science curious and the scientist, promoting real dialogue between all levels of science background and understanding.
While it is still under development, Dr. Loza Coll invites students (undergraduates, graduate students, and post-docs welcome!) and faculty to contribute content to Science4Everybody with the hopes that the materials (or the platform as a scientific writing tool) may find their way into the classroom. It is a great tool that can definitely be utilized in the educational context.
---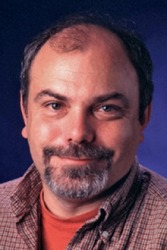 James Gober, Ph.D.
Professor
Chemistry & Biochemistry
Science Faculty Integrate Smartphone Technology into Instructional Materials
Dr. Jim Gober, a Professor in the Department of Chemistry & Biochemistry, studies developmental biology using the model system, Caulobacter crescentus. The developmental program of this bacterium encounters a number of differentiation events during the cell cycle, including the generation of asymmetry, differential transcription, and the execution of positional information.
In addition to being an accomplished research scientist, Dr. Gober is a champion of undergraduate education. He teaches Biochemistry 153L (Biochemical Methods I), a laboratory course that introduces science majors to fundamental techniques in molecular biology and biochemistry. Recently charged to redesign this course, Dr. Gober embraced the principles of backwards design described in CEILS active learning workshops and created a laboratory experience based in inquiry, with each laboratory experiment driven by specific learning outcomes. To ensure students were prepared to perform the technical requirements of each experiment, and ask relevant questions for steps they did not understand, Dr. Gober introduced QR Codes in the Laboratory Manual, enabling students to rapidly and easily link the assigned readings to online videos describing various techniques. Students need only scan the QR code with their smart phones or tablets and relevant websites pop up immediately. So Dr. Gober is embracing the technology his students use everyday for learner-centered instructional purposes, allowing students to view their lessons anywhere!
Dr. Gober's commitment to improving undergraduate education goes beyond the classroom. In addition to teaching and mentoring student, Dr. Gober currently serves as the Chair of theUndergraduate Council, a committee charged with making policy decisions in undergraduate education at UCLA.
---