CEILS Annual Faculty Workshop on Best Equitable Practices In Teaching:
Tuesday, September 14th to Wednesday, September 15th
Online & Hershey Hall Salon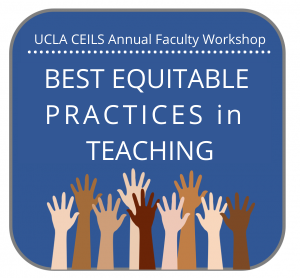 Register for 2-Day Workshop Here.
Friday, September 3rd is the registration deadline for all in-person sessions.
Currently, we are capping our in-person workshop at 40 people, as it will be occurring indoors.
Our in-person lunch and happy hour will not have a capacity, as they are taking place outdoors.
–
Join us for the CEILS Annual Faculty Workshop on Best Equitable Practices in Teaching, leading off with a special welcome from the Deans of Life and Physical Sciences. This 2-day workshop will help you prepare for Fall 2021 classes by providing you with equitable teaching strategies that maximize success for all students.
This year, with the ongoing unpredictable changes related to masking and varying comfort levels with being in person, we have taken a flexible approach. The CEILS 2-day faculty workshop will be held mostly remote, designed with interactive and engaging activities. We will also have options on the second day to meet in person for social time, as well as to practice teaching with active learning strategies while wearing a mask.
This workshop is appropriate for everyone—new or veteran teachers—interested in learning more about equitable teaching practices based on education research. We especially encourage instructors who either are relatively new to college teaching or who have instructional responsibilities in large enrollment gateway courses for science, technology, engineering, and math (STEM) majors.
You will also have a chance to meet and talk with other faculty on campus as they showcase the amazing work they are doing in their classrooms both synchronously and asynchronously!