Following sessions in the SABER Inclusion in Academic Biology Series
Every other Thursday Beginning Feb. 4th, 10:00 – 10:45 am PST
We are excited to announce Facilitated Dialogues for Inclusive Excellence in the Biosciences for UCLA faculty, staff, graduate students and postdocs. This will be a space for the UCLA life sciences community to engage in discussion immediately following the sessions in the "A Call to Action: Striving Towards Inclusion in Academic Biology Series", an initiative sponsored by the Society of the Advancement of Biology Education Research (SABER) focused on promoting awareness, understanding, and commitment to change academic biology to be more inclusive. For more information, please visit 
SABER's Diversity & Inclusion Efforts webpage
.
Immediately following each SABER session, we will hold a dialogue for the UCLA Life Sciences, facilitated by CEILS. Please sign up to join the dialogue and you will be emailed a separate Zoom link.
SABER talks are Thursdays from 9–10 am PST and our dialogues will be immediately afterward in a separate Zoom room from 10–10:45 am starting January 21st to May 13th.
During this dialogue, we will create a brave space to reflect and share your ideas, thoughts and feelings generated by the presentation. We hope that by dialoguing about these topics, you will feel more connected to your colleagues and inspired to take action to address racism and inequities in higher education. Feel free to reach out to CEILS with any questions or concerns at 
media@ceils.ucla.edu
.
Please see below for a list of upcoming SABER sessions.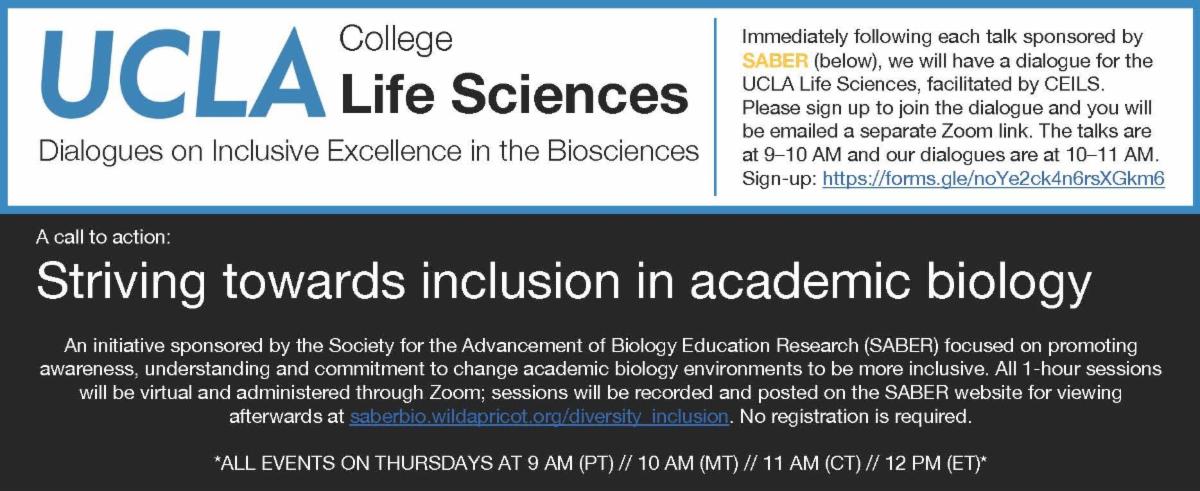 Addressing students' basic needs with a culture of caring during the pandemic

Thursday, February 4th, 9 am PT

Facilitated Dialogue at 10 am PT

Sara Goldrick-Rab, PhD, Temple University

Disability culture in the academy: Stories, lessons & research

Thursday, April 1st, 9 am PT

Facilitated Dialogue at 10 am PT

Anjali Forber-Pratt, PhD, Vanderbilt University

Structural racism, institutional transformation, and diversifying the STEM faculty

Thursday, February 18th, 9 am PT

Facilitated Dialogue at 10 am PT

Kimberly Griffin, PhD, University of Maryland

Land of milk and "honey": Confronting gendered experiences in field research

Thursday, April 15th, 9 am PT

Facilitated Dialogue at 10 am PT

Katie Hinde, PhD, Arizona State University

The influence of kindness and community in broadening participation

Thursday, March 4th, 9 am PT

Facilitated Dialogue at 10 am PT

Mica Estrada, PhD, UC San Francisco

Nature-culture relations and engaging multiple ways of knowing

Thursday, April 29th, 9 am PT

Facilitated Dialogue at 10 am PT

Megan Bang, PhD, Northwestern University

Systemic disadvantages for LGBTQ professionals in STEM

Thursday, March 18th, 9 am PT

Facilitated Dialogue at 10 am PT

Erin Cech, PhD, University of Michigan

Beyond information: Walking the path of truth, reconciliation, and liberation to make academic biology more inclusive

Thursday, May 13th, 9 am PT

Facilitated Dialogue at 10 am PT

Mays Imad, PhD, Pima Community College